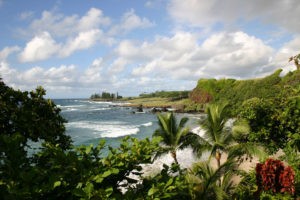 Famous Hamoa Beach (15 minute walk from the property – 2 minute drive)
Author James Michener called Hamoa Beach "the most perfect crescent beach in the Pacific". Hamoa Beach is the favored beach for both visitors and locals, and was rated as one of the top 10 beaches by Dr. Beach. The active type will enjoy swimming, surfing, boogie boarding and bodysurfing. Or, the lazy can simply relax and enjoy sunbathing on the beautiful and pristine white sand. Be advised that there can be a strong shore break and powerful waves. There is no lifeguard, so swim with caution at all times.

Kaihalulu ("Red Sand Beach") (7 minute drive) 
This dramatic cove was once a volcanic cinder cone. Bring your mask and snorkel and see colorful fish. It is best in the mornings when the sun shines. Parents, please be advised that this is a clothing optional beach. Please exercise caution on the trail, as the cinder is loose and slippery. Not recommended for anyone who is fragile or has difficulty walking or hiking.
Hana Bay ("Kapueokahi") (7 minute drive)
Enjoy swimming and snorkeling in Hana's beloved Hana Bay- originally named "Kapueokahi". Hana Bay has very calm water and has the safest swimming for very small children and inexperienced swimmers. Snorkel off of Ka'u'iki Hill and discover rare blue corrals thriving in Hana's clean waters.

Koki Beach (3 minute drive)
Located just minutes from our property near Hamoa Beach, this is a gorgeous strip of beach. It's a perfect place to sit and watch the sunrise or sunset pink clouds, or to go shell and sea glass picking! Though the water looks inviting, please be advised that there is a strong rip tide past the surf break. It can be dangerous so please stay very near the shore if you swim.

Famous Sites
Haleakala National Park- 'Ohe'o Gulch at Kipahulu ("Seven Sacred Pools")
Enjoy the 20-minute drive to Kipahulu while you take in the beauty of cascading waterfalls, tropical forests and dramatic cliffs. Once you reach Haleakala National Park ($10 parking fee per vehicle), visit 'Ohe'o Gulch. Commonly known as the "Seven Sacred Pools", 'Ohe'o Gulch is a chain of twenty-four pools tumbling down to the sea. Enjoy a refreshing dip in the lowest pool. The second gem of the park is the 2.5-mile hike alongside the pools and streams and through a magical bamboo forest to the amazing 400- foot "Waimoku" waterfall. Please keep in mind that you are nature and pay attention to cautionary signs. Complete your visit to Kipahulu with a visit to the serene Palapala Ho'omau Church, the final resting place of famed aviator, Charles Lindbergh.

Kahanu Garden
Step back in time and experience the unspoiled beauty of Hana and the fascinating culture and history of ancient Hawaiians. See the world's largest collection of breadfruit trees and remarkable and useful plants brought by the Polynesian settlers to Hawai'i. Kahanu Garden is also home to one of the greatest engineering and construction feats in all of Polynesia, the Pi'ilanihale Heiau. It is a temple of stone formed by lava rocks stacked one on top of the other. At over 50 feet high and the size of two football fields, it is considered one of the largest heiau in Polynesia. It has been lovingly restored by the owners of the Kahanu Garden. Open Monday through Saturday from 9:00 am to 4:00 pm. $10.00 entrance fee per person.

Wai'anapanapa State Park
"Wai'anapanapa" means "glistening waters." Experience the spectacular, natural wonders at this State Park. Here you will discover the dramatic stone arches and sparkling black pebbles at the famous black sand beach (Pa'iloa). Enjoy a swim in a freshwater cave-pool and walk along the old King's Trail on the bluff above the ocean. The swimming is pleasant when the water is calm, but can be very dangerous when it is not. Please heed all caution signs.