Things to Do in and Around Hana Maui
Aloha,
E komo mai - welcome to our home
We know that you will come to love Hana as much as we do. Here are a few suggestions which we hope will enhance your visit to Hana and the Guest Houses at Malanai.
Groceries
You will have a full kitchen (and BBQ) at your Guest House. There are only two small grocery stores in Hana, which are expensive and have an extremely limited selection. It's best to buy your groceries in Kahului before you come to Hana.
Near the airport in Kahului you can find Whole Foods, Safeway, Foodland and a Costco.
Mana Foods is an excellent health food store on Baldwin Avenue in Paia (the last town you will pass on your way to Hana). It has a great assortment of fresh and mostly organic vegetables and fruits, plus many things in bulk. Plenty of hippies shop there.
The Road To Hana
Hana is about 50 miles from the airport in Kahului. The impossibly scenic road twists and turns through coastal rainforest, and contains 59 one lane bridges. Take your time and investigate the sights!
Drive with aloha - if a local gets right behind you, pull over at a turnout and let them pass. They will thank you!
Parking at the various sites is limited. If there is no legal parking available at a site, pass by and try to visit on your return trip.
Shopping in Hana
In Hana town the two small groceries are the Hana Ranch Store on the "Mauka" side of the highway (the mountain side), and the Hasegawa General Store on the "makai" side (the ocean side).
Local fishermen occasionally sell their catch from roadside trucks between Koki Beach and Hamoa Village - look for their handwritten signs proclaiming "fresh fish today."
The Hana Farmer's Market sets up next to the Ranch Restaurant every Friday afternoon from 3pm to 5pm. This is a great way to shop from local growers and ranchers, and to mingle with area residents.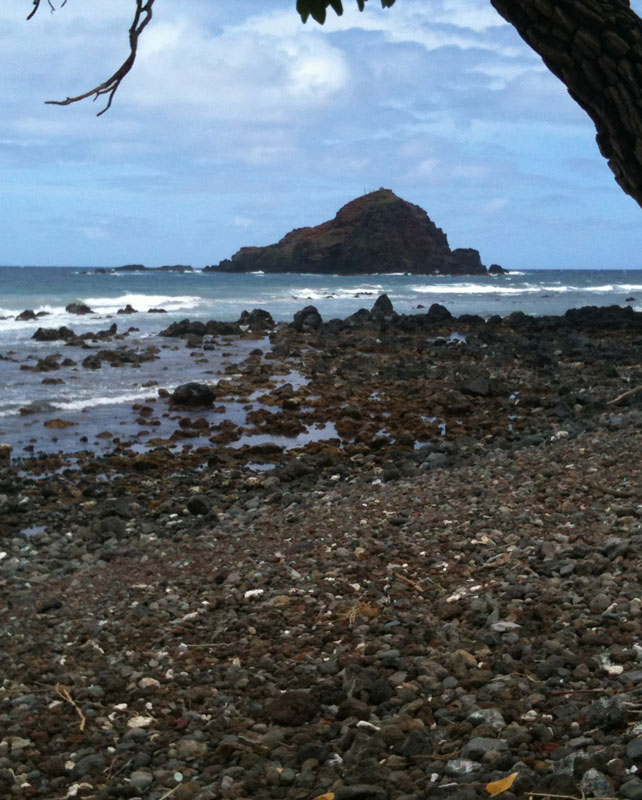 Restaurants, Farm Stands and Food Trucks
The Hana Ranch Restaurant is in Hana town, on the mauka side of the highway. It has a nice patio and a decent menu. Try the "catch of the day" or the burger. It is open daily from 11am until 9pm. On occasion they will have live Hawaiian music.
The Hana Maui Resort is on the makai side of the highway. It has a somewhat pricy dining room with a good menu and nice ambiance. However, the dining room has been closed since the pandemic. Check locally for information about re-opening.
Hana has a couple of farm stands that are quite nice. Our favorite is Hana Farms, located on the Hana Highway just north of town. They have a large variety of tropical fruits and exotic spices and make a wide assortment of products with locally sourced ingredients. Don't miss their yummy banana bread! The adjacent Bamboo Hale Grill and Pizzeria serves farm fresh food plates and pizza cooked in a wood fired oven. They are open 11am to 9pm on Friday and Saturday, and 11am to 3pm every other day (closed Mondays). BYOB! Fridays and Saturdays they have live Hawaiian music.
Hana also has a handful of food trucks, some of which are very good. They all close when they run out of food (usually around 3pm), so plan accordingly. Our favorite is Huli Huli Chicken, which is on Haneo'o Road between Koki Beach and Hamoa Village (about a mile from the Guest Houses). It's a co-op, with different families manning the cash register on different days. Chicken and ribs are prepared over a large wood fire perched on a spectacular shore. There are funky picnic tables scattered across the shoreline, which have Alau Island and the Hana coast as a backdrop.
Equally good is Thai Food By Pranee, which is behind the baseball park (close to Hana Bay). Pranee is a gifted Thai chef, and her food truck is a favorite of both locals and visitors. There are shaded picnic tables with a nice view of the mountains.
On the way south out of Hana there are a few trucks gathered in small lots on both sides of the road serving a variety of food. We like Da Fish Shack, Troy's, and Brudda Hutts (Hawaiian style BBQ).
Closer to the Guest Houses (at the corner of Haneo'o Road and the Hana Highway) you will find Tony's Place, a newer addition to the Hana food truck scene. Tony's has a great menu and shaded picnic tables scattered across lovely grounds. Open daily from 10am to 4pm.
Beaches, Hiking and Other Fun Stuff
Wai'anapanapa State Park
Located at the end of Waiʻanapanapa Road off Hana Highway, about four miles north of Hana (you pass it on your way in from Kahului). The park is built around a shoreline where the ancient "King's Road" circumnavigated Maui. There is a black sand beach, several lava tubes, and a shoreline trail that is spectacular. Go there early in the morning, as it can get crowded with day-trippers by late morning. Reservations are required for everyone except Hawaii residents with a state ID. You can obtain your reservation here.
Waioka Pond (the "Venus Pools")
Across the street from the Guest Houses, perhaps a fifteen-minute walk. The morning is the best time to go. Head out the driveway and turn right. Follow the highway to the first bridge, where the trail starts on the makai side. The trail leads to a cattle gate. Step through the gate and follow the trail towards the ocean until you get to an old Portuguese bread oven (you'll recognize it when you see it), where you turn right and head down to the pools. Check the weather before you go – Waioka is susceptible to flash flooding!
​Koki beach
Further down Haneo'o Road, past Hamoa Village.   Not the best swimming beach due to the riptide, but local surfers love it.
Alau Island - a bird sanctuary - is directly off shore. Stunning.
About six miles west of the Guest Houses, on the Hana Highway. It will cost $30 to enter and park your car (unless you have a National Park pass), but it's well worth it. The Park entrance pass is good for three days and includes entry to the summit of Haleakala.
You can follow the makai trails down to the Pools of 'Ohe'o ("Seven Sacred Pools"), a beautiful excursion. The best hike in all Maui is the Pipiwai Trail, which heads up (mauka side) from the parking lot. The hike is four miles round trip and ends at the foot of Waimoku, a 400 foot long waterfall.
The Kipahulu District is ls open daily from 9am to 5pm. Plan to arrive in the morning to avoid the crowds and to allow time to hike and explore the park – the gates close at 5pm !
Palapala Ho'omau Church
Past Haleakala National Park and just past mile marker 41, there is a road on the makai side that leads to the Maui Stables and this little church.  Built in 1857, it is on an enchanting spot right on the coast.   Charles Lindbergh is buried there, alongside the ancestors of many local families who still live in east Maui today.
Adjacent to the church is Kipahulu Point County Park, a fantastic spot for a picnic - bring a couple of food truck plates.  It's a beautiful drive south through Kipahulu to get there  (the turnoff is 7.5  miles from the Guest Houses). Highly recommended.
Archeological Sites
Although fish hooks found on Hawaii Island have been carbon dated to 450 A.D., it is thought that the period of greatest human migration from Polynesia to the Hawaiian Islands came between 1000 and 1200 A.D. From around 1200 A.D. to 1778, Hawaii remained isolated from the rest of the earth. The first known western contact with Hawaii occurred when Cook passed by Maui and landed on Kauai on January 20, 1778.
When the first westerner (La Perouse) landed on Maui in 1784, there were perhaps 250 to 300 thousand Hawaiians living here. Remnants of their civilization are all around you. Ancient hale (houses), heiau (places of worship), rock walls, petroglyphs and fishponds are plentiful along the Hana coast. Recently, renovations to the beach pavilion at Hamoa Bay came to a halt when the remains of ancient Hawaiians were discovered buried there.
Much of this archeological heritage is on private land, and can only be appreciated from afar. However, Pi'llanihale Heiau, the largest and best preserved Heiau in all Polynesia, sits in Kahanu Garden just north of Hana. More than sixty acres, Kahanu Garden is a National Tropical Botanical Garden which focuses on plant collections from Hawaii and the other Pacific Islands. There is a walking tour through the garden to the heiau.
Huialoha Church
Completed in 1859, this church is on a promitory near Kaupo. Except for an occasional local fisherman, you'll likely have it all to yourself. Another great picnic spot.
Hawaiian Music
Local musicians hold forth on Thursday nights (6:30 to 8:30 pm) in the bar at the Travaasa Hotel. No cover charge. The audience will be a great mix of visitors and locals. Highly recommended!