Hana, known as "the Last Hawaiian Place," is perhaps one of the most beautiful places on Earth!
It is our goal to ensure that our guests enjoy being here as much as we do everyday.
We want you to feel comfortable, cared for and at home – as though you are vacationing at a beautiful home belonging to good friends.
You will arrive to impeccably clean and well maintained homes, with tasteful furnishings, beautiful original artwork, fresh tropical flowers, fresh local fruit, and everything that you need to enjoy one of most memorable, comfortable and relaxing vacations ever.
We invite you to look through the following links to help make your vacation choice and we hope that you will let us welcome you to Hana!
HALE ULU LULU
Hale Ulu Lulu is our elegant one bedroom, one bath cottage. The name means "house sheltered by the breadfruit trees." We named the house for the ancient Ulu or breadfruit trees which surround the cottage. We also liked that it sounds a little funny!
Originally built in the early 1900's to house the managers of the Hana Sugar Plantation, Hale Ulu Lulu is one of the few remaining original plantation houses in Hana. The cottage was completely restored in 2004-2005 with meticulous attention to historic detail while providing every modern convenience. We have designed an open and airy 900 square foot layout with spectacular ocean and pastoral views from every room.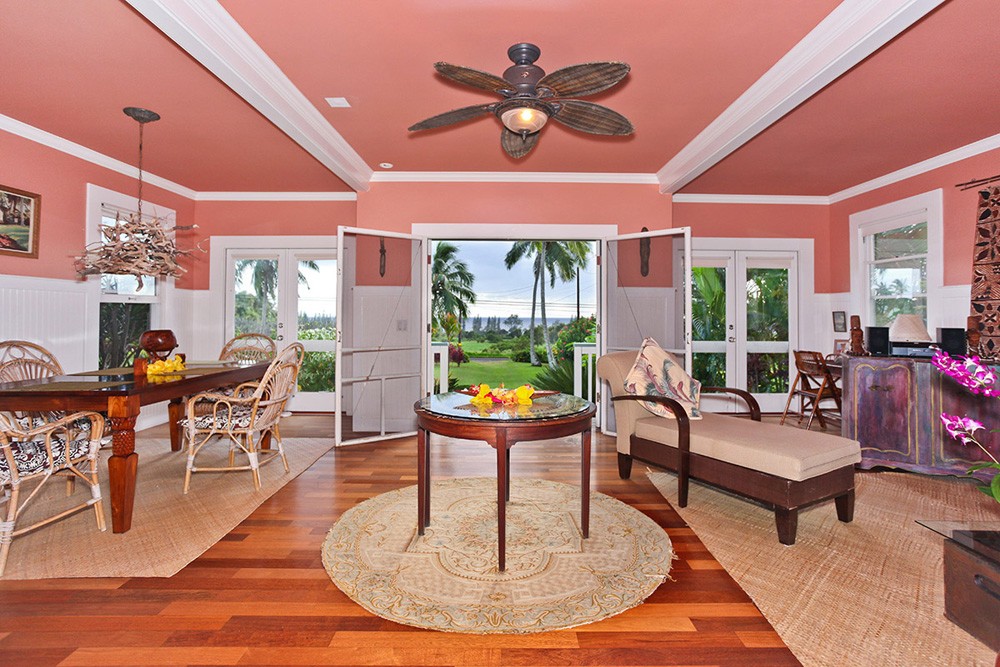 You will be delighted with the beautiful Brazilian Mahogany floors, vintage feeling bath with dual sided claw foot tub, granite kitchen counters with Koa wood bar counter and trim accents. Between the bedroom and living area a sliding panel, framed and covered with rare Tapa cloth, allows you to relax in bed to the incredible view or, when closed, to have complete privacy from the rest of the house. The furnishings are classic and comfortable with a Missionary antique and Asian influence. We have designed the cottage with warm tropical colors, original local artwork, Hawaiian antiques and Polynesian exotica.
Though the house has a tasteful and elegant décor, you can still put your feet up on the furniture and enjoy the relaxed atmosphere. It is a unique piece of Hawaiian history, perfect for a romantic getaway.
HALE MANU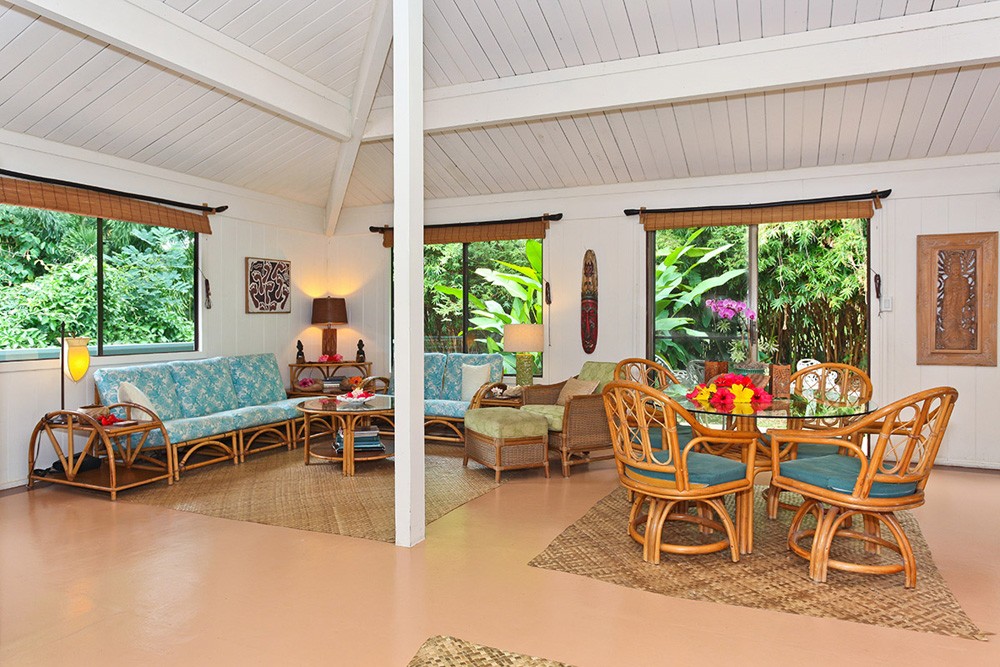 Hale Manu, which means the "Bird House," is our larger two bedroom, one bath guest house. It has a relaxed, fun and playful personality. You will wake up to the sounds and sights of the various tropical birds as well as the beautiful ocean view and sunrise vistas that both of our guest houses share.
Hale Manu underwent major renovations in 2004 including a new kitchen with new appliances. As with Hale Ulu Lulu, we offer it extremely well equipped (see guesthouse amenities). The spacious Hawaiian styled architecture includes open beamed ceilings and a large center cupola for great airflow.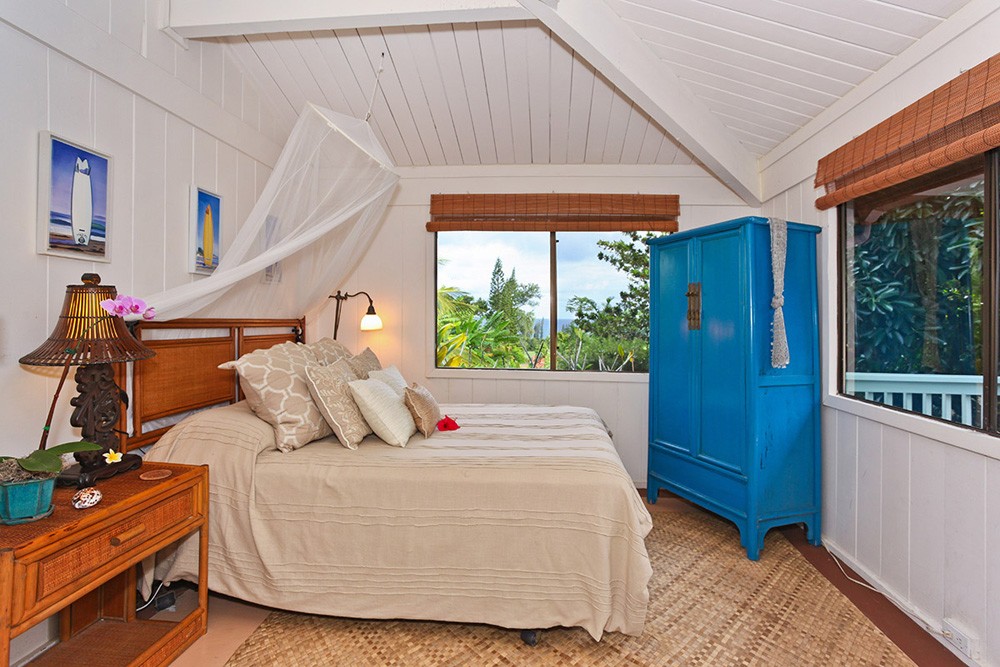 Both bedrooms have ocean views and at night you will hear the surf crashing in the distance. The guest house is furnished with a fun vintage Hawaiian flare, including a 1930's vintage rattan living room set we found and shipped all the way from a small Texas town and original oil paintings by local Hana artists.
Sink yourself into the couch in our cozy reading nook and grab a book off the bamboo shelves to relax the night away. We have a collection of coffee table books about Hawaii and Polynesia, which can be enjoyed during your stay. We even have bird books and binoculars for the avid bird watchers!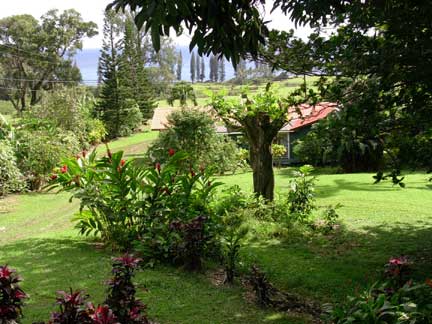 Hale Manu sits perched up at the rear of the property. There is a large deck off the house with a gas BBQ, outdoor dining table and chairs and teak "steamer" lounge chairs. Enjoy sunning with great ocean views and breezes.
In the evening, dine under the stars while surrounded by the beautiful gardens.

Both of our guest houses have stack washer/dryers, tub and shower combinations and enjoy the convenience of "on the grid" electricity, telephone, cable and water.